Jessica's Blog!
Archive for September 2006
29/09/06
Thorpe park
Rich decided that it would be good to have a trip to Thorpe park this year with some of our friends from work. I've been to a few theme parks since going out with Rich, and I've discovered that I really like fast and scary rides, on which I scream loudly and have a great time. So I was really looking forward to our trip, however our work friends were a bit more cautious about some of the rides.
I went on every ride that I could apart from a really wet water ride called 'Tidal Wave' which I decided to miss out on in the interests of staying dry. However, while watching to see Steve (the only one who wanted to have a go) come down the slide I managed to get soaked by standing in the splash zone. Oops.
The best ride of the day was called 'Samauri' which looked to be the scariest but was in fact fantastic fun. It spun you around in about three different directions at once, but instead of making you feel ill it felt just like flying. Wheeee!
There are some fantastic photos to be found in the photo gallery, or if you are lazy then just click here.
27/09/06
Taekwondo bowling
Rich and I went along to a bowling outing with some of the people from our Taekwondo club. You all should know what a fine bowler I am - and so you shouldn't be too surprised when I tell you that I managed to come last in both the games that I played :(
Rich did a lot better than me, he got it into his head that he should take on the two black belt ladies that were also there, as he wouldn't have a chance at beating them at Taekwondo. He did pretty well to win the first game, as Lynda and Terry both seem to be almost 'pro' - however Terry gained the heighest score overall and should be proclaimed the real winner. Poor Rich, you'll just have to find something else that you can beat them at.
Photos can be found in the photo gallery, or here if you prefer.
24/09/06
Taekwondo sparring
The South East TAGB (Taekwondo Association of Great Britain) championships is coming up fast (15th October) so to help prepare I decided to attend a special sparring (fighting) session.
I've only just purchased all my sparring kit (head guard, shin pads, feet pads, gloves and gum shield) which I tried on for the first time today. I look like Robo cop in all of it! (If you're luckly I'll get a photo taken...) The sparring was exhausting but good fun. I didn't do as well as I wanted as I am really out of practice, but hopefully I'll be a little more confident by the competition. Rich managed to pull one of his muscles so he's been hobbling around since, poor pet, I however got away with only a couple of small bruises.
As well as fighting I have to learn my new pattern (same as a karate kata) so that I can do that in the competition also. I also need to lose some weight otherwise I'll end up in the heavy weight catagory, and they would pummel me!
12/09/06
Taekwondo grading result
I'm sure that you will all be relieved to hear that Rich and I both passed our Taekwondo gradings. Our instructor, Carl, even said nice things about how well I had done to pick up the new Taekwondo style.
Because of this recent success I am flirting with the idea of attending an upcoming Taekwondo competition, it may mean that I need to fork out £100 to purchase sparring equipment, but it should be fun so I think I will probably give it a go.
09/09/06
Amsterdam trip
My work decided to send me off to Amsterdam today to attend the International Broadcasting Convention. I've never been sent off to a foriegn country for work (us Librarians generally don't) so I was pretty excited about going. The only downside was that I was only allowed to go for the day, which with the 'heightened security level' at airports this meant spending 5 and a half hours in airports with only 5 and a half hours at the conference.
The people in Amsterdam were all really nice and friendly - especially to this very confused young lady from England. Shockingly though the other people at the conference (all very smartly dressed and important looking) were really rude! Queuing for the shuttle bus to take me to the conference was just like catching the bus at secondary school with all the pushing and shooving, perhaps even slightly worse!
03/09/06
Thea's birthday
Today was Thea's birthday, so all together now:
Happy Birthday to you,
Happy Birthday to you,
Happy Birthday dear Thea,
Happy Birthday to you!
Thea & Marcus invited us around to their place for a lovely Sunday roast (yum - Chicken!) to celebrate. I got to see my new niece Katie again (by the way - the photo page for Katie can now be found in the right side menu) and she is just getting prettier and prettier! Marcus took some photos of us with Katie so hopefully I will be able to put them up on the site for you to see soon.
02/09/06
Fattening up Cara & Nick
Cara (Rich's sister) is due to be returning to her parental home up in Yorkshire shortly and so we decided to feed her up before she left. Cara & Nick both tend to eat vegetarian food, but even with this to cope with Rich & myself managed to cook up a delicious and nutrious meal. Vegetarian pizza is the way to go, it tastes great, you can have it with garlic bread and crisps, and it may even be bad for you (vegetarians probably need a bit of bad food once in a while). We then followed it up with some delicious chocolate puds that Cara brought round - they were so rich that I almost couldn't finish mine, almost.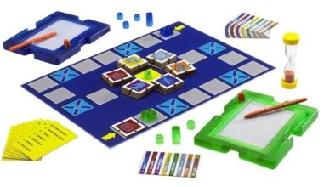 After that fantastic meal we played a new game that Rich & I had bought - Pictionary mania. We will need lots more practice as Cara & Nick thrashed us. It was fun though, I got to try a sketch-a-doodle which I had never done before. We also did some 'people putty' which involved moulding your partner into a pose - not sure how you manage to mould someone into 'lick' or 'nurse' though.