Jessica's Blog!
Archive for June 2007
30/06/07
Zig & Liz's wedding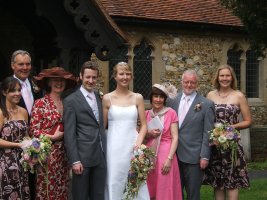 Rich's good mate from Uni got married this weekend to Liz at a lovely church in Essex. The wedding was lovely in a very pretty little church and Liz looked stunning in her beautiful dress.
After the service we all wandered back to Liz's family farm - where all the dogs and goats had decided to get into the occasion by wearing pretty ribbons around their necks. Some of the ladies in high heels did start to sink into the lawn while we waited to go into the reception gazeebo (the weather had been particularly wet all week) which was great as I didn't feel so quite so diminuative as everyone seemed to be so tall!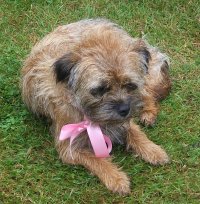 Dinner was lovely - a proper sit down one with beef encrute and a lovely raspberry merange roulade thingie for dessert. Our table also had a shy vistor come and hide underneath, one of the dogs who seemed to feel that things were getting a little bit too much decided to hide under our table for a few hours.
Sadly Rich and I didn't get to stay too late as we had a long drive back to Croydon to do, we both had a lovely day though and a really starting to enjoy this wedding buisness. I'm a little worried that the next one is going to be ours though!
24/06/07
Dinner with Em & Aubs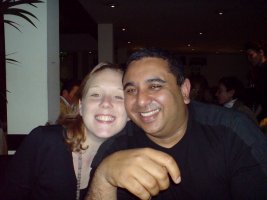 My unreliable friend Aubs is due to have his birthday on Tuesday so we decided that this was a good enough excuse for a meal out. As it was a treat for Aub's he got to choose the restaurant and so we trouped off for some food in a (very popular) little Japanese place. Aub's ordered sushi for us all to try, which was great as I've wanted to have a taste for ages. Then we all had our own main courses, and they were huge! None of us could finish our meals - or find any space for dessert.
After eating so much food we didn't have the strength to go straight home and instead wandered off to get a drink at a nearby bar - which had some nice rugs up around the place for some reason. I had a tasty cocktail (a pina colada I think?) and then was happy for the rest of the evening. Thanks Aubs for such a fun evening!
23/06/07
Engaged for 5 months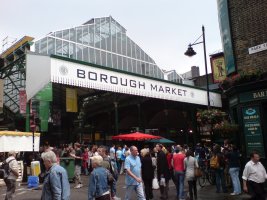 Yup, Rich and I have been engaged for an impressive 5 months now (really doesn't feel like it - what happened to all that time?). To celebrate we decided to go into London and do a few of the things on our 'What to do when we are bored at the weekend' list. Top of this list was to finally visit Borough market and see what all the fuss was about as well as go and have a look at the Star Wars exhibition.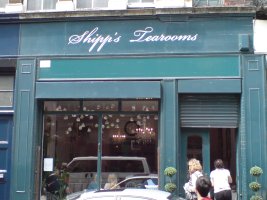 Borough market is a huge food market in London which opens on a Saturday. Rich and I had been told good things about it, but weren't quite prepared for the sheer size and the amount of people all crowding to get in.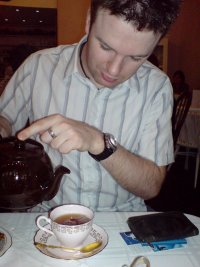 We brought a cool bag determined to buy something exciting for our dinner that evening and then proceeded to get very lost looking around all the stalls. After much wandering we came across a place that sold Ostrich steaks and burgers and agreed to try that. We also got some tasty looking pies from the daftly named 'pieminster'.
After much shopping we then treated ourselves to a lovely pot of Assam tea at the Shipps Tearoom and we even had some yummy cake to keep us going. After a refreshing cuppa or two we then wandered on to the south bank where we paid a rather alarming £16 each to get in. Luckily we both thought that it was much better than we had anticipated. I really enjoyed the Jedi school (lot's of kids got the chance to practice light saber skills and fight Darth Vader) but I don't think Rich got as much out of it. Go check out the pictures in the picture library.
21/06/07
Taekwondo grading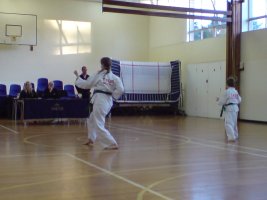 For some foolish reason I thought that doing another grading would be a good idea so tonight I had to go and grade for blue belt without feeling as though I had prepared myself properly at all. Even so the grading did seem to go quite well, but mostly that was due to the last minute help Rich gave me in going over some of my crucial grading syllabus that I had managed to completely forget!
The gradings are starting to get more serious now - with this grading being the first that I had to do sparring in. Not too sure how that went, all I remember is being completely whipped by a mini Taekwondo half my height. Oh well - I'll find out next week if I managed to pass.
17/06/07
Meeting up with Florence
Florence is a friend of mine that I meet in the first year of my degree at my Taekwondo class there. She was doing a year in England to pass the English part of her degree - and wanted my help (poor thing!). Even with my dubious English speaking/writing advice she managed to pass (so she must have been pretty good to start with) and now she works in various places around the world. Hopefully she'll be able to come to the wedding so there may be a photo of her here sometime soon.
We all meet up in Euston station and from there found our way into another Pizza Express for our dinner. Even though it has been such a long time it was really easy to chat to Florence again and laugh about life in TVU - especially the fact that our old Taekwondo instructor now seems to be making a movie career for himself.
14/06/07
Steve's Birthday Balcony Barbecue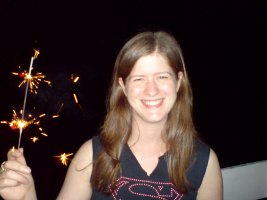 Steve very kindly invited Rich, myself and a large number of his other friends over to his flat for a barbecue/late flat warming. Summer must be here now as we are starting to be invited out for barbecues - and the weather even behaved for us today staying nice and bright for the barbecue and having a clear starry sky for when we had sparklers in the evening.
My favourite part of the evening was eating tons of grated cheese while Rich wasn't looking and having a large slice of Matt's incredibly rich chocolate cake.
02/06/07 - 03/06/07
A busy weekend
Please don't be panicked by the booties on the right! I just wanted to post a picture of them as I made them up over the weekend (for a friend, not for me!). My weekend was busy for very different reasons.
This Saturday my sister Thea and I went into London to try shopping for a wedding dress in Oxford Circus and Reagents Street. We tralled through tons of different shops, but ended up going straight back to where I tried on the first dress and buying that one. It is lovely! Now all I need are shoes, some sort of wrap and matching jewellery (don't panic Rich!)
Sunday Rich and I had visitors again, my Uni friends Em & Aubs came round for Sunday dinner which turned out as a tasty Chinese main with Rich's delicious chocolate brownie for dessert. Em & Aubs were very polite about us half choking them with the fumes from the chilli - so hopefully they'll trust us to cook for them again some time. Aubs is also due to come round on Wednesday night to see if he can help with any of our Wedding planning problems - he's also offered to do us some sort of cake for the day - hooray for Aubs!