Jessica's Blog!
Archive for October 2007
31/10/07
Happy Halloween!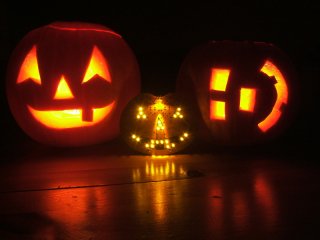 Because I'm still running behind after the wedding and the honeymoon I didn't get round to organising a proper halloween party with all the decorations, food and mayhem that involves. So this year I decided to settle for a much more leisurely stay at home type halloween.
Rich has never carved a pumpkin before!
To help get him started on the path to being a true halloween fan I bought us two pumpkins and scheduled us in for some scary pumpkin carving... and yes it can get a little harrowing as you watch your loved one playing about with a very sharp kitchen knife. Thankfully both of us still have all our fingers and thumbs and are also the proud new owners of some very expertly carved pumpkins (even if Rich's is very geeky). Go and have a look at the photo gallery for more halloween pumpkin and sparkler photos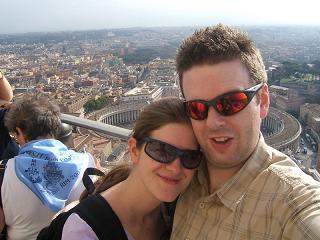 30/09/07 - 07/10/07
Honeymoon in Rome
How best to relax after a fantastic (but hectic) wedding day? Well, sadly not in Rome as there is far too much to see and do to sit down and relax for 5 minutes. Rome was lovely, warm, friendly and very noisy. We stayed in a nice (simple) hotel which had a lot of character (the wooden lift was sometimes worrying as it would creak quite omniously) which was very near to the Termini the main rail station in Rome.
Sunday 30th - We found our way from the airport to the hotel okay, but literally dumped our suitcases and crashed for the evening as soon as we arrived.
Monday 1st - Off we went on a coach tour around all the sites of Rome. We got off and on at different places to have a further nose around, but for most of the sights we got a quick glimpse and decided that we would go back properly during the week. I spent a lot of time on the coach tour fast asleep - oops.
Tuesday 2nd - Feeling a little more awake today so we managed to make it out to the impressive Colosseum where we had a proper tour round with a charismatic Italian guide. Our guide amused us with stories of how the colosseum got built, what it was like at the height of the Roman empire and how the lions would climb the high walls to attack the spectators. After a good look round the colosseum we took the guide up on an offer of a free tour round the palatine hill, which is where Rome was founded from. The ruins of the palace that used to stand on the hill are very impressive and there is so much marble and structure left that it is hard to believe it is so ancient.
To finish off the day Rich and I thought we would have a quick look around the Roman forum - the impressive ruins from the many temples that once formed the main Roman business district. We ended up spending hours here marveling at how magnificent the ruins were and being impressed by the sheer scale of it all.
Wednesday 3rd - Unfortunately Rich was not too well today, maybe it was the odd meal that we had eaten out at a nearby restaurant (the 'live entertainment' was a rather scary lady who would sing well known english songs... but obviously couldn't speak english... oh, and she would sing in both male and female voice), or maybe he was just plain tired. So we both spent the day resting in our hotel room.
Thursday 4th - Rich still felt unwell this morning, and I too had felt better, so another morning of rest was had by us. I think we just tried to do too much by going straight from wedding craziness to a busy honeymoon. We started to feel better in the early evening so we went out to find the lovely Fontana de Trevi which was packed with people, but well worth visiting.
Friday 5th - Rich and I both felt much better so we had a packed day of trying to see as much of Rome as possible. First off we visited the Vatican museum and had another tour guide show us round a small part of what is an immense and impressive collection of statues, painting and tapestrys. After a couple of hours in the museum we went into the surprisingly small Sistine chapel and admired the beautiful ceiling by Michelangelo. Once our necks had recovered from gazing upwards for so long we went into St. Peter's Bascilica and were awed by the sheer scale of it. After having seen enough of the Vatican for one day we headed out to the Plazza de Spagna and sat on the famous steps while writing postcards.
Saturday 6th - We set off nice and early (for us) to return to St. Peter's Bascilica in the hopes of getting to climb all the way to the top of the Dome and admire the fantastic views that you get of Rome from there. Half way up you get the opportunity to view St. Peter's from within the dome, and the church seems even more massive from above than it does when you are wandering around on the ground. Once my legs had a chance to recover from all the stairs that you need to climb to get to the top of the dome we went on to find San Giovanni the church originally used for ordaining the popes. San Giovanni is another impressive church with rich decoration and impressive statues. The cloisters there are also lovely and have a peacefulness about them that isn't present in the church itself.
Last site of the day was the Pantheon. Originally a temple to all the gods it has now been converted into a catholic church. The original dome cannot be seen from the outside any longer... but if you enter the Pantheon you just need to look up to see the beautiful inside of the dome.
Sunday 7th - Our short time in Rome was up so off to the airport bright and early for an afternoon flight back to sunny London.
Photos from our trip are now up in the photo gallery.