Jessica's Blog!
Archive for January 2008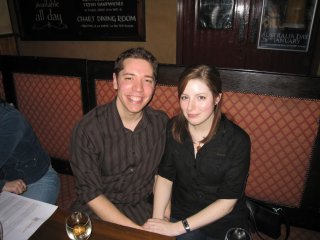 26/01/08
Engage-a-trons!
Congratulations to Cara and Nick - just yesterday they got engaged!
Nick was a sneaky engager - he had let Cara organise a Birthday outing with friends for him, but secretly he changed the plans so that everyone came out the next day without Cara knowing. Then on the day he was supposed to be going out to the pub with all of us he whisked Cara off for a romantic day out and proposed!
So I'm going to be gaining my second brother-in-law! (Sorry for the earlier slip up Marcus - please forgive me!) I'm very excited for them both, and I'm really looking forward to all the wedding planning (without any of the stress).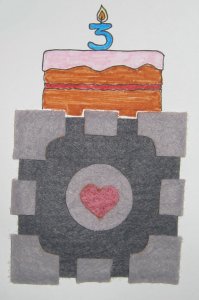 23/01/08
Just turned 3
Today Rich and I celebrated our 3 year dating-versary. What with the wedding/Christmas and other events this has come round quicker than we were really ready for. At the last minute (late the night before) I made up the little card on the left for Rich. If you are a 'Portal' fan then you will know what this little cube means - poor little companion cube...
To mark the event we went out for a very delicious Malaysian meal at the little restaurant round the corner. We sat ourselves near to the fish tank so we could watch their antics while we ate. For my main dish I had a lovely piece of salmon - and then felt bad with the little fish watching me eat their large cousin. Much wine was consumed and then off home to feast on chocolate ice cream.
02/01/08 - 05/01/08
Off to Yorkshire
The last day of Rich's parent's stay was also our first day up in Northland. Feeling much better Rich and I joined his parents on the long train journey up to Yorkshire. We left little Fidget with pleanty of tasty food and off we went to enjoy a relaxing stay.
On the Friday (4th) we all headed off to visit one of Rich's grandmothers who was hosting a little late Christmas gathering. It was great to get to see some of Rich's extended family again as well as getting a chance to play with the lively little Drew and Ela (Rich's cousins)