Jessica's Blog!
Archive for March 2008
30/03/08
Family get together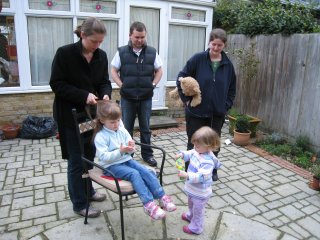 What with a sister living all the way over in Wales, another in Kent and a rather hard to get hold of brother it really has been a long time since my parents and all my siblings got together. However, Liz was coming down from Wales with Myf this week so it seemed like an idea time for us all to get together and eat lots of the delicious food that our parents had cooked.
Ah, the food - delicious roast beef with all the trimmings (including homemade Yorkshire pudding) and then two choices of dessert! Mum and Myf had even gone to the trouble of making homemade strawberry icecream which was simply delicious and I really could spend all day eating. After we were all full of food it was time for some manic rushing around in Mum and Dad's newly landscaped garden. Both Myf and Katie seemed to be having a fantastic time, especially when they got Alex to play 'horsey' with them.
Sadly we all had to go back home - me to a rather ill Rich who was not well at all today. Hopefully we'll all be able to meet up again a bit more regularly in future.
28/03/08
Meeting baby Aedan
My good friend Katie recently gave birth to a lovely little boy and today I decided that it was high time I went to visit her. So onto the train I went and off out to Katie's new home for the afternoon. Jupiter the dog welcomed me at the door and tried to wash my face before I even got a chance to say hi to Katie. Thankfully Aedan was a lot calmer and seemed to be having a bit of a nap when I arrived.
Lunch was a very tasty mozzarella, tomato & bazil panini (oh - posh!) which went down nicely with a cup of tea and a good chat. Aedan was a sweetheart all afternoon and even was well behaved when I got a chance to hold him. Thanks for having me over Katie!
25/03/08
Ski film showing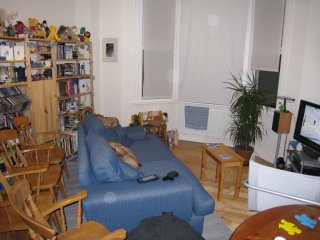 During our wonderful skiing trip to La Plagne a lot of film footage was taken by Rich on his new digital camcorder as well as the odd bit from the other engineers on the trip. Once we got back Rich spent a considerable amount of time putting together a rather flash short skiing film. He went to a lot of effort on it and even ended up buying a new DVD burner which would also draw a picture onto the top of the DVD - very cool!
So tonight was the night that all of our skiing companions could make it along for the grand showing. 12 of us somehow managed to squeeze ourselves into our front room (look - we had to draft in all the chairs in the house and there were still a few people sitting on the floor). Rich had the slide show running as guests were arriving (another DVD feature that he built in) and once everyone was seated comfortably and had good access to the popcorn we were ready to begin.
The most popular parts were the lovely credits at the start and Chris' impressive fall right at the end of the film. Also popular was the hidden 'easter egg' that Rich had tucked away in one of the menus - it was to a much condensed version of the film called "Steve's dog film 2: The call of the wild". Rich has stuck a copy of it up on YouTube so go now and have a look watch!
16/03/08
Hyperbolic crochet!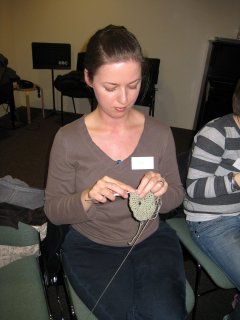 Most of you are probably aware of my crochet fixation... well I've now managed to convert my sister Thea over to the crochet side too. So both of us were pretty excited to find out that there was going to be a crochet workshop in London on a day that we could both make it along to.
We meet up in Waterloo and went from there to Pizza Express where we both enjoyed lovely leisurely meals (with desserts and coffee afterwards - yum), perhaps too leisurely as we had to make a dash to get to the Southbank centre in time for the workshop.
We both had a fantastic time meeting other crocheters and having a go at doing our own hyperbolic crochet - but don't worry, I won't go into too much detail! Now to spend my free time making up crochet items to contribute to the crochet coral reef that will be on display in the Southbank centre some time this summer.
07/03/08 - 09/03/08
Zig & Liz visit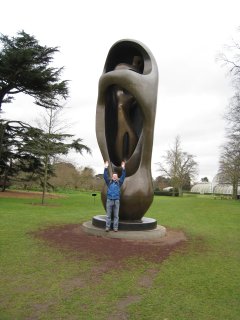 What with the wedding, then Christmas and lately all the searching for a new home Rich and I have been a little behind in catching up with our friends - but no more! This weekend has hopefully changed that trend as we had a visit from the notorious Zig & Liz. You may remember the famous duo from our adventures up in Newcastle, well it was about time that we played hosts.
Zig & Liz came down late on Friday evening and got into lovely Croydon by about 9pm - just in time for us all to go out for a sumptuous Indian dinner in our local restaurant. Nothing beats a good Indian meal after you've been looking forward to it all day. After all that tasty food we came back home and rounded off the evening with a good cuppa tea before bedtime.
On Saturday morning we all got up pretty early for a weekend (before 10!) and headed out to the mystical land of Kew where there be fabled gardens a growing. Ah - my old stomping ground, the familiar shops and fantastic 'Kew gardener' where they do a mean lemon meringue pie.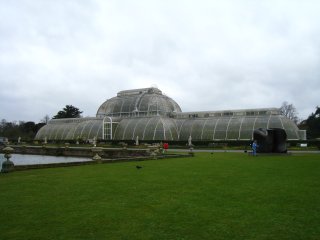 Off we went into the lovely Kew Gardens for a great trek round the grounds and the greenhouses. We were all impressed by the Chinese garden with the 1/3 scale entry gate that forms the centre. The simplicity really worked well as it was a little early in the year to see many flowers out.
We also enjoyed the stylish bridge across one of the lakes which was curved in a slight 'S' shape - very nice, but sadly the lake was too still to play 'pooh sticks' on. After wandering outside we headed in to the greenhouses as the weather was starting to cloud up a little. Those greenhouses are so much bigger on the inside than you would expect... we even got a little lost in one of them. We saw the oldest pot plant and were sprayed well while in the temperate zone of another. We then all headed off back to Croydon for a reviving cuppa tea (after having a quick slice of cake on the way of course).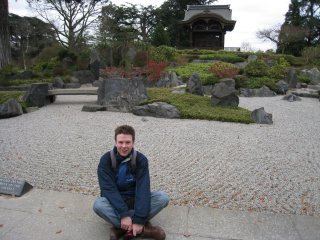 Rich cooked us a delicious red Thai curry which our guests seemed to enjoy greatly (Liz was even seen wiping her bowl clean with one of her fingers) followed by a tasty apple pie (not just any apple pie, a Marks & Spencers juicy apple pie). Then the evening descended into Carcassonne playing which was enjoyed greatly by all.
After providing my guests with a hearty cooked breakfast (I do a mean cooked breakfast) we found just enough time for another game of Carcassonne before Zig & Liz had to head off back from whence they came. Thanks so much for coming down and visiting us - we can't wait to come up to see your new home some time soon.